Families - this is a reminder that tomorrow is an abbreviated day. Busses will still run routes. School will dismiss at 9:00am tomorrow, Friday, December 17th. We hope everyone has a wonderful Christmas Break!
Spencer Elementary Eagles have two away games this week! Come out and support our teams!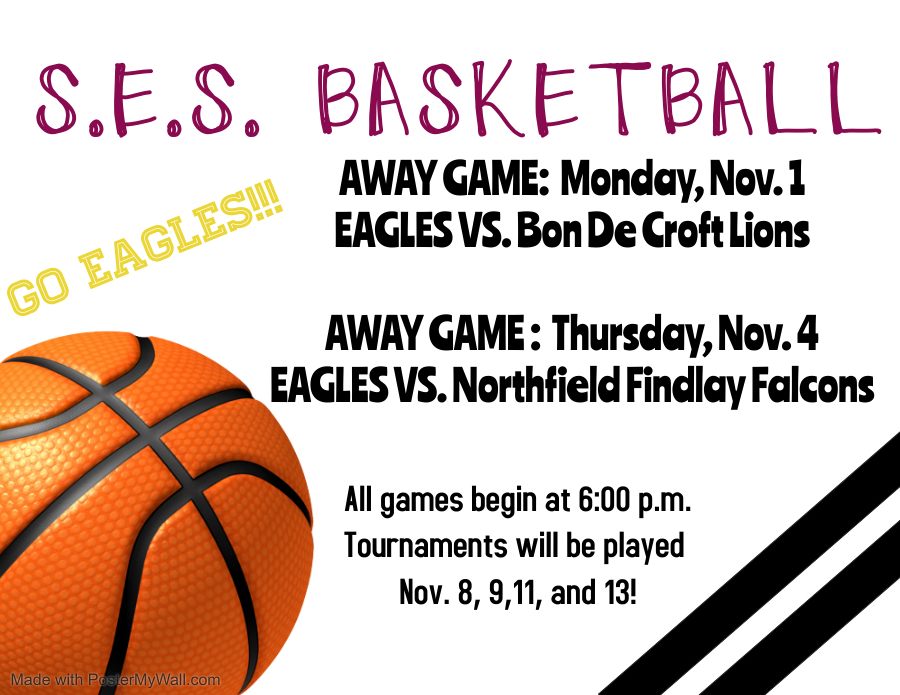 Spencer Elementary Eagles have two games this week! Come out and support our teams!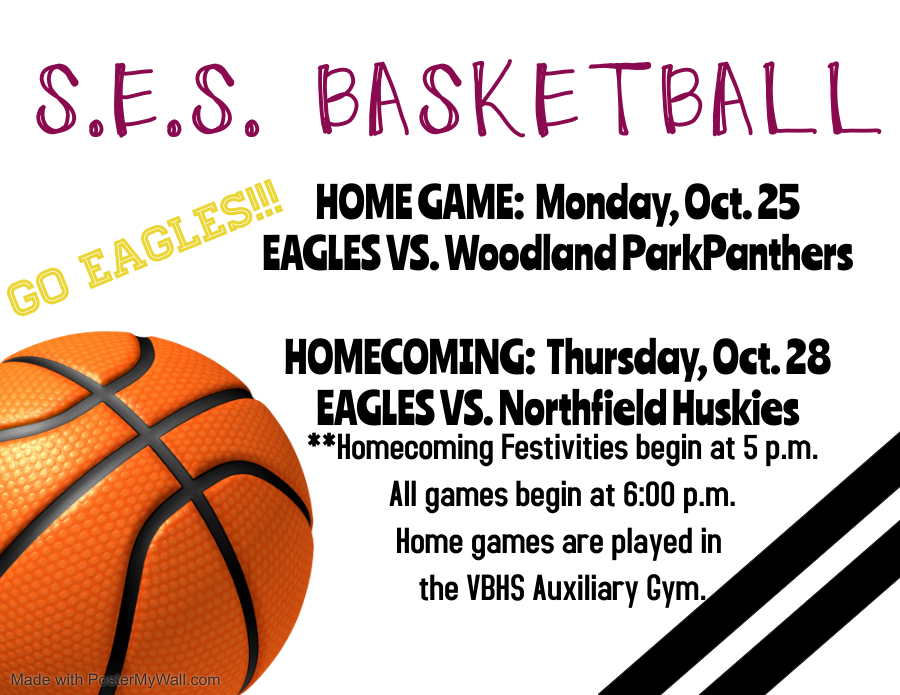 Next week at SES, we celebrate HOMECOMING along with Red Ribbon Week, an annual event to help educate our children, families, and the community about the dangers of drugs and alcohol abuse and bullying. Please join us next week, October 25-29, in celebrating! Here is the information regarding Red Ribbon Week Dress Up Days! The dress up days are the same as VBHS except for Thursday. The SES Homecoming Game and Festivities will be on Thursday, October 28, so our elementary school students should wear MAROON & GOLD to support our EAGLES!
Spencer Elementary Eagles have one game this week! Come out and support our teams!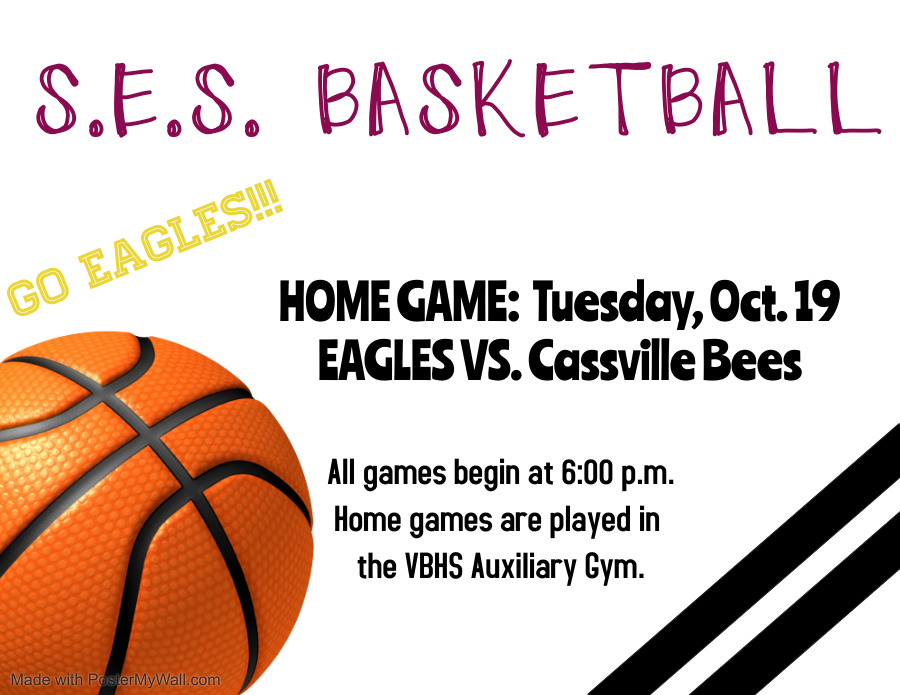 Spencer Elementary Eagles have two games this week! Come out and support our teams!
VBCYA Basketball Registrations are currently underway for 4 year olds (by Aug 15, 2021) through high school seniors. Registration can done online at vbcya.com. There are also 2 in-person registrations: 1.) September 22nd from 5:30-6:30 at the high school gym 2.) September 30th at the auxiliary gym during the SES basketball game on . Online registrations are preferable! The deadline to register is October 3rd at midnight. No forms will be taken at school.
Spencer Elementary Eagles have one away game this week! Come out and support our teams!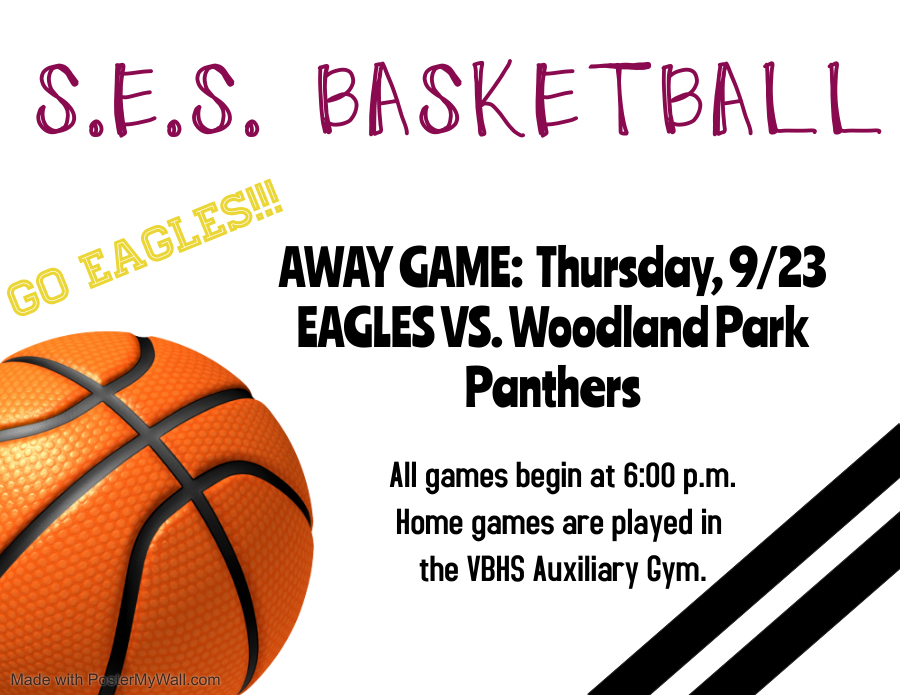 Spencer Elementary Eagles kick off their basketball season this week! Come out and support our teams!
SES shirt sale is going on now through August 25th. Personalization is available! Go online to order today. Shirts should be back before the first SES basketball game.
Girls basketball tryouts are this Thursday Aug. 12tb and Friday August 13th from 3-4:30 for any SES girl in 3rd, 4th or 5th grade this year. Girls need to wear sports shorts, short sleeve shirts and tennis shoes. Parents need to notify their teacher their child is staying for tryouts with a signed note. Parents be on time to pick up your child at the back door by the playground. Thank you
Good afternoon SES families! As we welcome you back to a new school year, we have some important reminders: 1. August 3rd from 4-6 p.m. will be our Open House at SES. This is an excellent time to walk your student into the building, meet their new teachers and drop off supplies and medications. We will also have extra school supplies from the back to school give away set up if you were unable to attend. Parents may not enter the building on Friday, August 6th (the first full day of school). 2. Morning drop off begins at 7:30 a.m. just like last year and is limited to one lane with 3 drop off spots along the front porch of the school. Students will eat breakfast in the classrooms with the teachers again this year. Students need to be dropped off in time to have their breakfast before classes begin at 8 a.m. 3. Afternoon pickup is 2:50-3:15. Please keep the interior lane open until 2:45. After that pickup is in both lanes. Please do not motion for your child to come to your cars or into traffic. Teachers will walk them to cars to prevent any child from being injured. Please make sure your child's teacher is aware of their afternoon plans (bus or parent pick up). 4. Registration day on Wed. Aug. 4th is for new students only. 5. Friday Aug. 6th is the first full day of school. We look forward to your return this week!
Save the Date! The SES Back to School Open House will be Tuesday, August 3, 4-6 p.m. Details may be found on the Spencer Elementary School Facebook page, at vanburenschools.org, or by clicking on this link:
https://5il.co/va58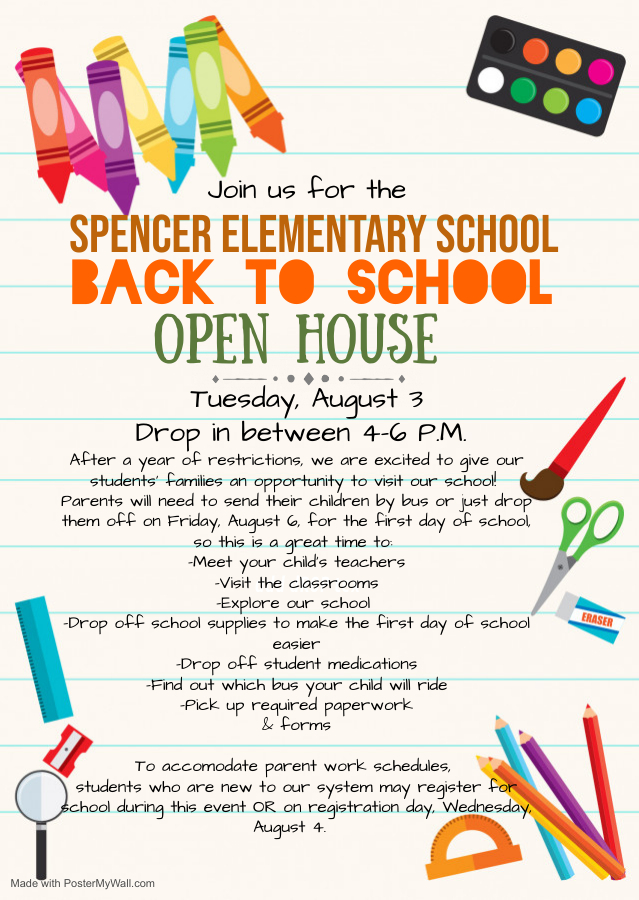 Spencer Elementary School 2021-2022 School & Classroom Supply Lists - Click the following link to view the lists:
https://5il.co/uhxe
The Tennessee 2021 tax-free weekend begins 12:01 a.m. Friday, July 30 and runs until Sunday, Aug. 1 at 11:59 p.m. White County and Van Buren County will host free school supply giveaways. Watch the school website and Facebook page for information, dates, and places. Text messages should be go out to your phone, also. Please call Renee at the Central Office (931-946-2242) if you need to update your phone number to get the messages.


Students that were in Kindergarten through 3rd grade...Keep an eye on your mailbox!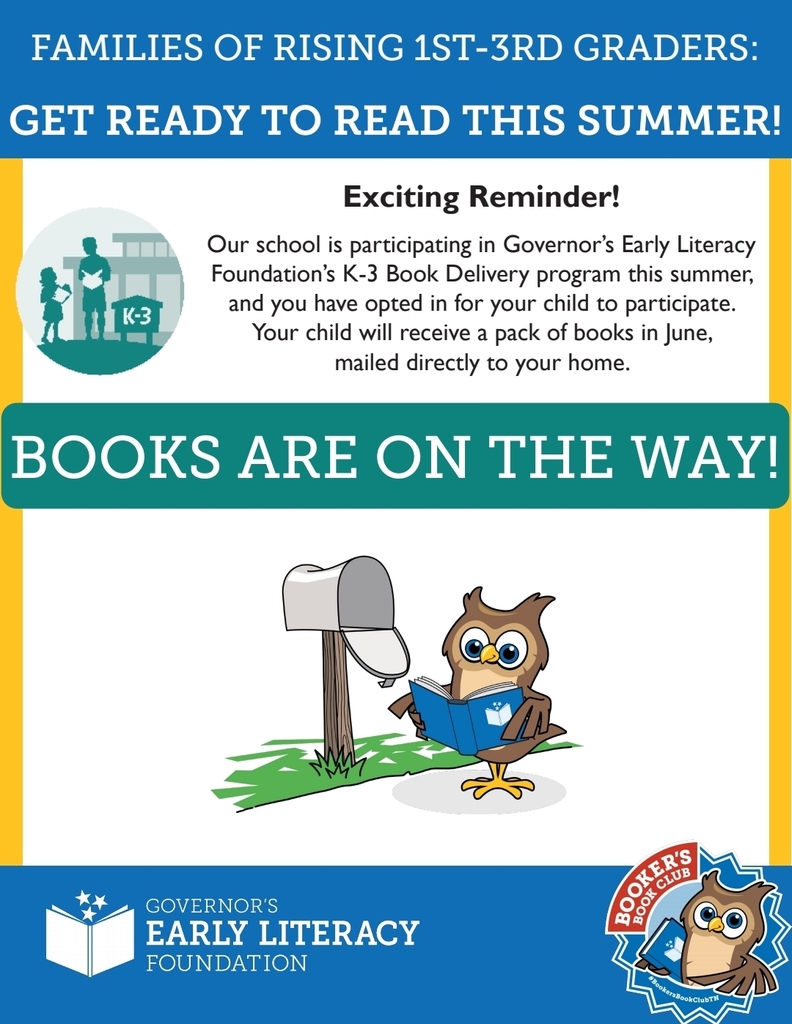 Middle school girls basketball tryouts will be Friday, May, 21st from 3-4:30pm in the auxiliary gym. Tryouts are for students who will be entering the 6th-8th grades next school year. Please dress appropriately and wear basketball shoes. For students who are attending school that day, please meet Coach Lakelyn in the front lobby of the high school and walk across the road together.

MIDDLE SCHOOL SOFTBALL: Middle School girl's softball tryouts will be Tuesday, May 18th, from 4:30 to 6pm, at the softball field. Tryouts are open to students who will be in the 5th through 8th grades in the fall. Please dress appropriately and bring your glove! We apologize for the late notice. Please cheer on our high school team as they advance to regional play on Monday, May 17th!
Spencer Elementary School is hosting our annual Awards Day Program on Thursday, May 13th. You are receiving this notice because your child in grades K, 1 and/or 2 is receiving an award. The program begins at 8:30 a.m. in SES gym. We invite you to attend and celebrate your child's accomplishments with us. Thank you and have a nice evening.